Professional SEO Audit Services That Aren't Confusing
You know you need SEO growth, but you don't know where you stand.
Our Professional SEO audits are comprehensive reports that are actually readable.
Shake off nonsense charts and sheets, and ditch all the jargon and upselling.
Get real action steps that you and your team can execute with our proprietary SEO Site Audit Process, and Search Engine Blueprint Solution.
Read on to discover how we find a clear path forward, and simplify search engine optimization.
First, We'll Craft a website Audit OF You & THE COMPETITION
Get back on track with Search Engine Optimization.
Being visible for the services or products you offer, right when people Google them, is more crucial than ever when you consider the following trends:
Privacy laws are expanding, limiting targeting methods.
Competitors are outspending each other on digital ads, driving up prices.
Marketing online is getting even more crowded, especially now.

This means the #1 way to drive new prospects to your website is through high-intent keywords on Google and other search engines.
But what happens when you get lost in Search Engine Optimization and don't know where to begin?
You need help and you need it now.
And we have it.
We've poured decades of experience, and invested tens-of-thousands of dollars to develop an organic traffic assessment system we're proud of.
It's one that we're sure our clients and their businesses can actually benefit from.
Our SEO Audit Process is focused on companies looking to get back on track by offering our affordable, comprehensive, and professional SEO strategies.
We'll help you get your site the visibility it deserves, focused on your goals.
Then, we'll Build STRATEGIES TAILORED TO YOU AND YOUR TEAM
SEO Campaign Execution with your available resources in mind.
Outside of making cookies, we know cookie-cutter just doesn't work in a challenge as nuanced as enhancing the visibility of your business.
We want you to be successful, and will do all we can to make sure that happens.
The most important thing for the LFDM team, is to make sure that you are taking the right shots by having a strong, clear path forward.
We do this with a combination of clearly delineated tasks, resources, content opportunities, and strategy breakdown so if it's been a while, nothing is lost.
Whether you're a group of key executives, a dedicated marketing team, or a CMO with many hats, we'll navigate you forward.
Finally, You'll Get SOMETHING that's ACTUALLY USABLE
Not just a powerful SEO Site Analysis, but real action plans THAT YOU CAN ACTUALLY use.
Here's some jargon: Our SEO site audits are comprehensive and include both on-page and off-page research, keyword research, links, missing content opportunities, lead contacts, technical seo issues, and more factors crucial to your visibility.
The words above are great, but if you can't interpret it, there's no point.
We spend a lot of time on these, so we want to make sure they're actually useful.
Our focus isn't on graphs and sheets with an unreasonable amount of rows and columns.
We want you to actually use our audits to act.
If you wanted to look at a report, you could just go to Google Search Console or Google Analytics.
Every audit is presented as a full-featured, yet readable, report that is focused on being both understandable and actionable.
And, we include video breakdowns to make sure nothing is lost if you end up onboarding more people into your team.
Robust experience + INTENSE R&D
Get direct Access to our experts
Our team possesses over 35 years of cumulative experience. That's decades of knowledge working on every one of our reports. We know what works and what doesn't, beyond claimed "best practices", or other factors.
We focus on the context of the keywords, the content, the intent, and that puts up a touch above other agencies.
With this experience under our belt, LFDM continually invests on thousands every year on tools, testing, and validation for our audits.
We've collectively helped setup or improve the digital marketing of over 500 brands and have been responsible for setting up the strategy and procedures for agencies.
Context-focused audits with strategy and a blueprint forward. We leverage our experience, and your available talent to craft a bespoke report.
Simple COST: Our seo audit pricing
SEO AUDIT & BLUEPRINT
A Full-Fledged Lay of the Land and Path Forward
Custom Strategy With Action Steps

Video Breakdown of Audit and Strategy Execution

1 Hour Success Consultation
SEO Website Audit Frequently Asked Questions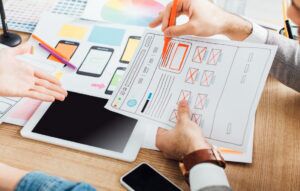 Successful SEO requires a comprehensive approach that takes into account both technical and creative elements. User experience (UX) plays a key role in SEO, as
Read More »
Let's Get Started on Demystifying your SEO
Discover how our SEO Audits can help your business be future-ready.